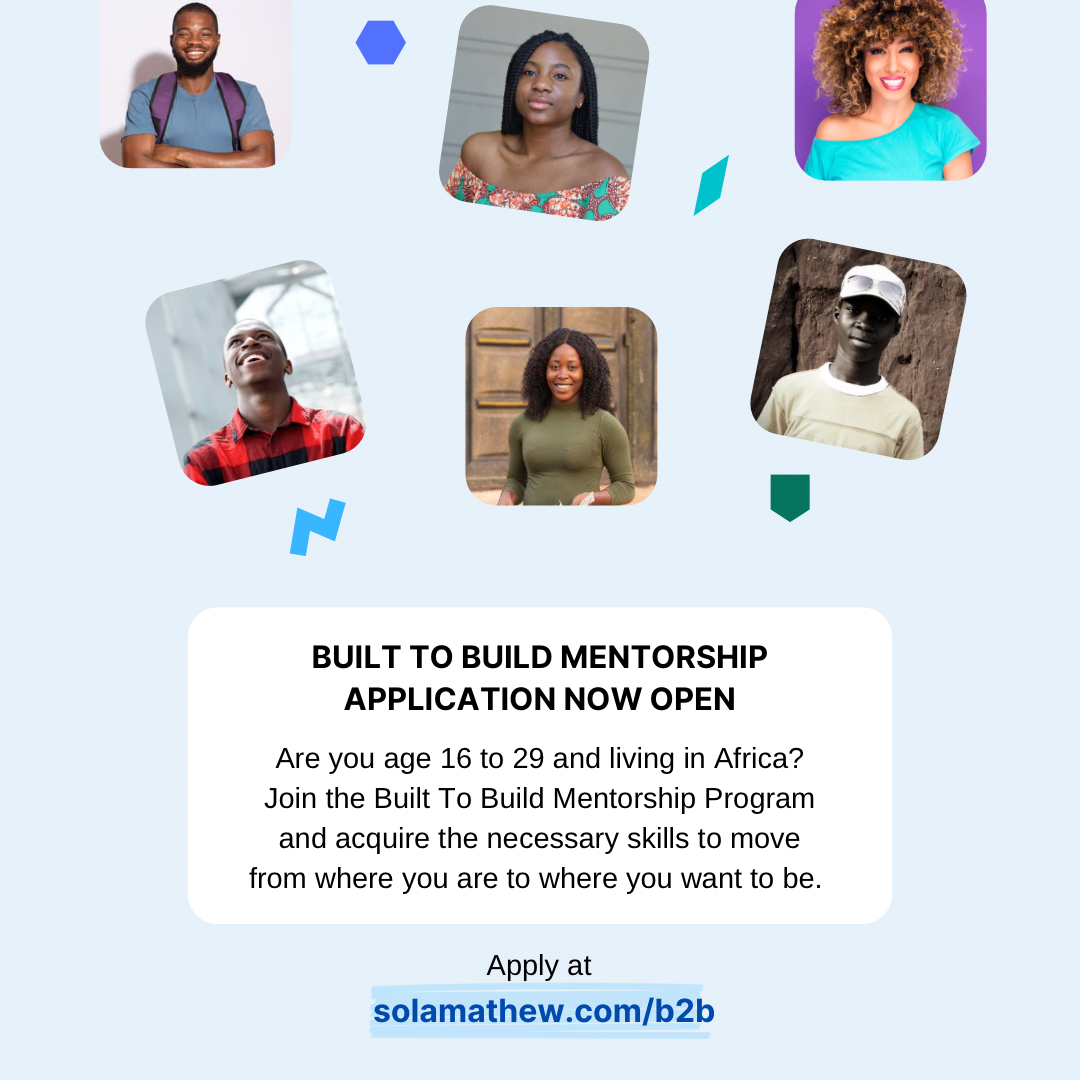 Introducing Built2Build Mentorship Platform: A Way of Giving Back!
In the morning of Monday, 17th of January, 2022, while praying, God reminded me of where I was coming from.
In case you don't know, I lost my dad at age 6 and had to be raised by a single mother.
In 2004, the single mother also died.
I became a complete orphan!
Things were difficult.
I was frustrated, sad and lonely.
There was even a particular unforgettable day that I ate unripe mangoes at night because I couldn't afford to buy food.
I almost thought God was not with me BUT He was always there and He is still here today and forever.
He raised people to help and empower me along the way.
He opened my eyes to see opportunities and gave me the grace to grab and make use of the opportunity.
I have acquired different skills that are shaping my life.
Most importantly, God gave me a beautiful (in and out) life partner.
Well, many people have requested to be mentored by me but because of time and other constraints, I could only mentor a few.
Today, God is reminding me to bless others with my experience and skills through my mentorship program, Built to Build.
I've been blessed to bless, built to build and empowered to empower.
Hence, I'm opening up this mentorship program for young people who want to be mentored by me.
Here are some of the things you will get from Built to Build:
— Purpose Discovery & Development
— Character Development
— Relationship
— Digital Skills for the New Economy
— Opportunity to meet my circle of influence
— and more
Who is to apply?
Anyone (male and female) of ages 16 to 29.
Where is it taking place?
The mentorship is ONLINE.
How much is this mentorship?
Hey, God didn't ask me to collect a dime from you.
So, it's FREE.
You only need to register with the link below:
==> https://solamathew.com/b2b
Registration closes by 31st of January, 2022.
Peace!
#Built2Build