If you have been looking for a way to earn money with affiliate marketing in Nigeria, this is the best article you will ever come across. Perhaps, you have been searching for "Affiliate Marketing in Nigeria", "Expertnaire Affiliate Marketing", or "How to Make Money with Affiliate Marketing in Nigeria", please search no further, this blog post is for you. 
In this article, you will learn all you need to know about affiliate marketing in Nigeria to start earning 5 to 7 figures online every month. I meant, how to make from 50K to 1M per Month.
WARNING: This post is not for the lazy readers. It's a long but informative post on affiliate marketing in Nigeria. Ensure you read to the end.
Actually, this is a class on affiliate marketing in Nigeria that I held some times ago and I'm sharing the class note for the very first time publicly. You will find the class very interactive and easy to comprehend. In fact, I wrote the class as if I'm right there talking with you.
Oh, I see you agree with me…
Okay. Read on.
Congratulations on successfully making this class!
If you're online, give me a KISS.
Thank you.
Why I said you should give me a KISS is because I love to KEEP IT SHORT & SIMPLE.
I'll keep this report short and simple because I'll still give you a unique link to learn more soonest! 
Plus, I don't like wasting people's time!
My name is Sola Mathew. I'm the best selling author of WhatsApp Sales Blueprint that is helping affiliates generate millions of sales every month. I love making money and empowering people to do the same.
Click the video above if you prefer watching the video presentation on Affiliate Marketing in Nigeria and How You Can Make Your First N1,000,000
BEFORE WE GO INTO THE AFFILIATE MARKETING CLASS, Let me quickly share my story with you…
I lost my dad and mum at ages 6 and 14 respectively.
Things were so difficult! I was so frustrated!
One night, while I was in the university, I had to pluck unripe mangoes to eat because I was hungry and couldn't afford to buy food.
I felt like committing suicide. I felt like giving up.
Somehow, I didn't just give up. I'll love to call it God's mercy and grace.
I managed to pass through secondary school and university with the help of God, some people and the skills I learnt. I wrote more on that in my amazing bestselling book, I Have Been There Before. You can get the book on Amazon.

I tried so many things which did not work including MMM.


To be candid, I made some money from those things but their models are not sustainable. You know why? 
They don't have products to sell.
After graduation from university, I was posted to Taraba state, a Northern part of Nigeria, to serve under NYSC.


It was in Taraba state that my eyes opened to the secrets of selling and making money on WhatsApp…


Later in early 2020, I traveled from Ekiti to Lagos for a seminar organised by Toyin Omotoso. I remember paying N30,000 for the seminar. That's aside my transport fare, accommodation and feeding. The seminar was on affiliate marketing. It was this seminar that changed the game for me.
After I registered for the affiliate marketing program, I realised many people were making use of email marketing to make sales. Even though that worked to some extent, it required some capital to start. For instance, you'd have to buy domain name and hosting and pay for the email marketing service.
I decided to find a NEW WAY!
I started my own affiliate marketing business with the secrets from WhatsApp that I've learnt while in Taraba and in less than 21 days, I had made over N250,000.
My life changed from someone who plucked unripe mangoes to eat when he was hungry to living a life of abundance and happiness.
Toyin Omotoso had to reach out to me to share my secrets with other affiliates and that was how I wrote the WhatsApp Sales Blueprint. The book is now helping affiliates make millions of Naira every month.
Don't worry, you don't have to go to Taraba to unveil these secrets. At the end of this training, I will show you how to get the book and other juicy bonuses. 
In fact, some of you will have the opportunity of working with me to make your first 1 million Naira in 3 months. 
I have been there before! That's why I'm here to help you.

So, let's get started on Affiliate Marketing…
I would like to start this class with the story of one of my students, Esther.
The story of Esther is a story I always love to share because her story is similar to mine. 
Esther's parents died in a motor accident. Thank God she (Esther) wasn't on the bus.
Later, she was raped and got pregnant. She decided to give birth to the child despite not knowing the father.
She did different manual labour work just to take care of herself and her daughter…
I almost shed tears when Esther narrated her story to me… I had met her at an event I was invited to speak in Ekiti state. We exchanged contact.
Esther later saw how I shared about affiliate marketing business and testimonials of some affiliates and myself on my WhatsApp status. 
About 4 months ago, Esther decided to register for the affiliate marketing program. She told me she got the N50K course registration fee from the savings from her manual labour savings. 
Esther was added to my mentorship group (available for my students) and continued to implement all that she learnt from the affiliate marketing course.
I was happy to tears when she sent me a message one night that she has now made a commutative of 350K from the business.
Apart from the money Esther makes from affiliate marketing, she now works with a big company as their social media marketer on a part-time basis, leaving the hard labour work she was doing before. 
She learnt how to run ads from 72IG Program (the course on affiliate marketing I shared with her) and mentorship from me. 
At least, Esther is now empowered with skills to make money to take care of herself and daughter. 
I hope the story of Esther inspires you!
The story of Esther and many like her is one of the reasons I exist. 
Dear Friend, you see, people make money online every single day and this is not a deception anymore.
In fact, here are a few proof of what I am talking about: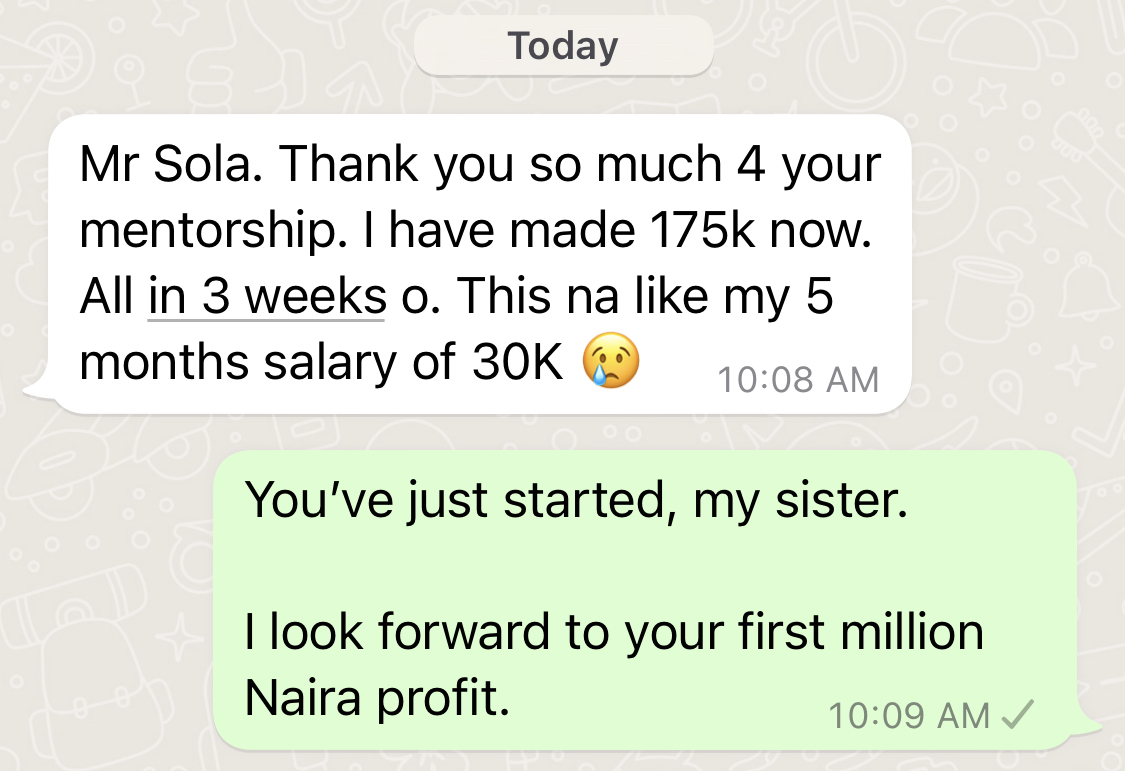 Here is another one…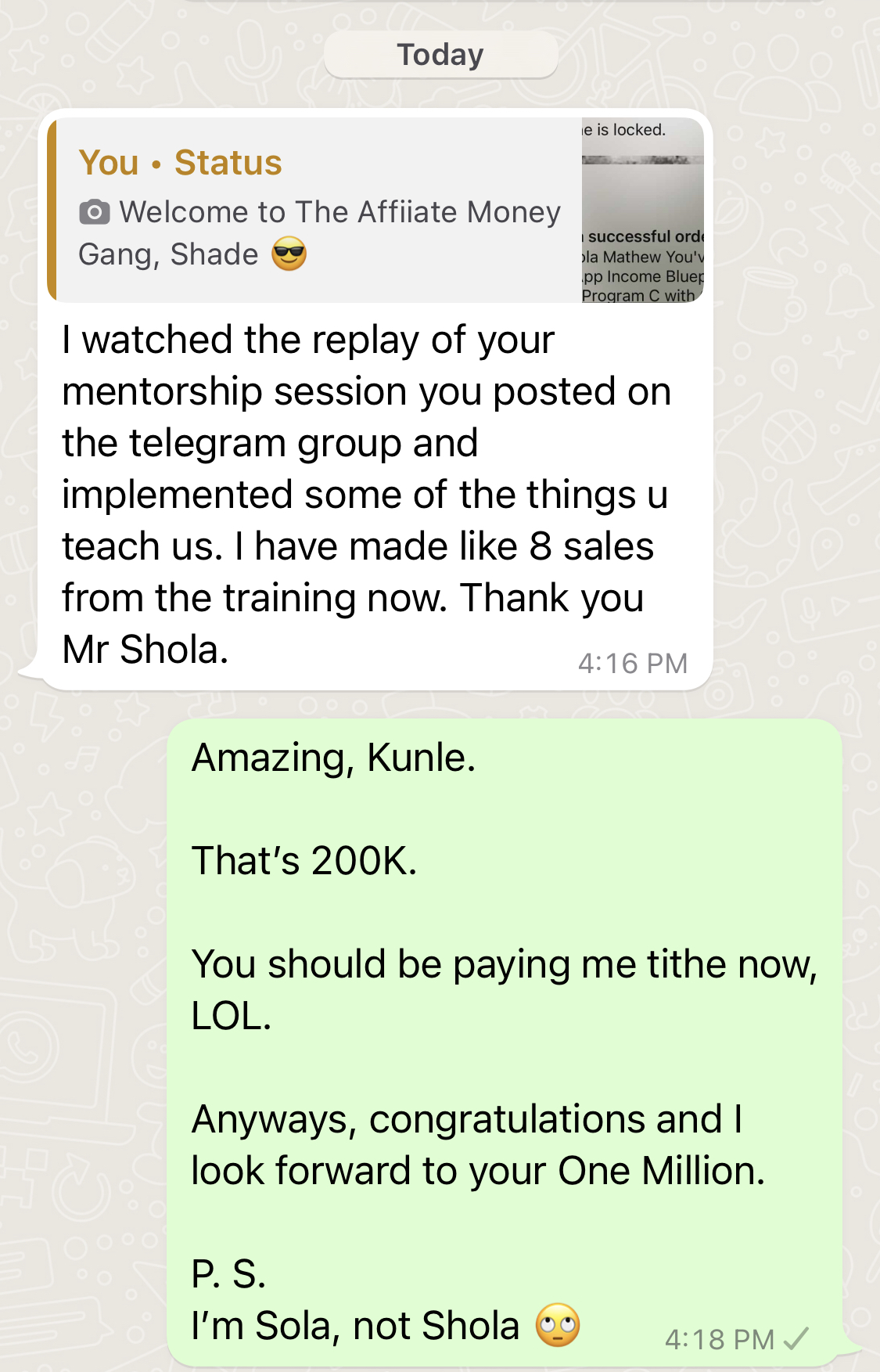 Take a look at the video I recorded when I made my first one million in 2020 with affiliate marketing below.
Back then in early 2020, if anyone had told me that I could make N200,000 per month online with affiliate marketing, I'd doubt it. 
That's because I belonged to some affiliate marketing platforms and kept making peanuts.
My story has now changed with the affiliate marketing platform that I found out in 2020. I'll share about that later.
Firstly, let's look at what Affiliate Marketing is.
NOTE: Do You Prefer to Download This Post as a PDF So You Can Read Later? Click Here!
What is Affiliate Marketing?
According to Wikipedia, Affiliate marketing is a type of performance-based marketing in which a business rewards one or more affiliates for each visitor or customer brought by the affiliate's own marketing efforts.
That might be too hard for you to comprehend. Let me simplify it.
Affiliate marketing is a type of digital marketing in which you're paid a commission for each product that you sell through a link (Affiliate Link) that would be given to you by a business or company or individual.
Simply put, affiliate marketing is a process whereby you RECOMMEND high-valued digital products to people and get paid commissions (or money) when they buy.
I hope you're following.
Good!
Let me use this as an illustration;
Let's assume Bimbo has a business of selling cakes.
Bimbo has a friend called Bola who isn't employed yet.
Bola comes to Bimbo for help but the only help Bimbo could offer Bola is to be helping her to sell her cakes.
Because Bimbo wants to help Bola, she tells Bola that on each cake she sells, she will get N1,000.
Each cake is priced at N5,000.
Now, if Bola sells 10 of that cake in a day, how much is her commission?
That's right… You're very intelligent!
Bola's commission is N10,000.
In that scenario, Bola is an affiliate marketer with Bimbo.
The more Bola sells, the more money she makes.
It's that easy.
Bola doesn't need to go through the stress of making the cake or decorating it. Bimbo has done all the wahala for her.
But it's a win-win.
Bola makes money, Bimbo also makes money. Both of them are happy.
Do you understand now?
Good!
The only difference is that the products we sell in affiliate marketing are digital products. They are not physical products.
Meaning, you don't need to stress yourself with delivery or looking for a logistics company to deliver your goods.
You can sit at the corner of your room, a hotel, your office or travelling on the road and keep making money with affiliate marketing.
In fact, I love the fact that I could just wake up from bed and see that I have made money. Yes, you can make money while you sleep 😎.
What are some Affiliate Marketing platforms you can join and start earning money?
Jumia 

Konga 

Amazon 

WhoGoHost

Clickbank (don't accept Nigerians)

And more
Actually, many websites or businesses offer affiliate marketing as one of their marketing and sales strategies.
When I started this class, I told you that I belong to some affiliate marketing platforms that were paying me peanuts right?
Some of them are Konga, Amazon, Whogohost and Smartweb Hosting.
I'm not saying these platforms don't pay, but their commissions are waaaaay lower. 
To make enough money with them, you need to make MANY sales.
I remember I made around N3,000 with SmartWeb Hosting affiliate some time ago.
Later, I found out about an affiliate marketing platform that gives people a HUGE (very huge) sales commission. The interesting part is that they pay every Friday of the week! As in, to us, the month ends every Friday.
Do you want me to continue?
I hear you say "Yes" 😊
Great!
I'm talking about commissions of 40%, 50% and even 80% depending on the product and the owner of the product.
This platform is called Expertnaire Affiliate Marketing or simply put, Expertnaire. I first learnt about this platform in early 2020 from the creator and founder of the Expertnaire platform himself, Toyin Omotoso. He's one of the top online business men in Nigeria. Even Hon. Akin Alabi and other top business gurus like and respect him.
In 2 months of learning and starting affiliate marketing with Expertnaire in 2020, I made half a million. I leave you to imagine what I would be earning now.
I'm not saying you'll achieve the same result. Yours might be higher or lower than mine.
Your earning potential depends on many factors such as your skills and mentorship. I will show you to get the two later.
First of all, you need to understand that money is abundant, it is everywhere and you can make a lot of it.
You actually have to believe that you can make a lot of it. You need to believe that you are capable of generating 1 million in one month. Yes, you need to believe that!
This is because making money starts with the right mindset.
Let's do simple money Maths:
One of the products on Expertnaire is YouTube Profits Blueprints.
It's currently sold at is N30,000 and gives a commission of 40%. 
40% of N30,000 is N12,000.
Let's say you sell 10 of that product. You'd have made 10 x 12,000 which is N120,000.
Now, imagine you sell 100 of that: 
That's; 100 x 12,000 =  N1,200,000
Yeah, that's over one million Naira.
Let me ask you: what will you do with N1,200,000 if you have it right now?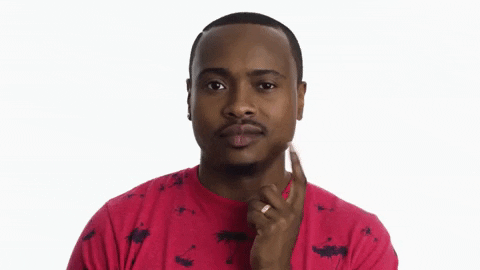 I'm serious.
Stop and think.
What will you do with N1,200,000 if you have it right now? (You can drop your answer in the comment section later.)
If you're like me, you could use the money to invest in crypto, real estate or take care of your love ones. Actually, you can do anything but let it produce joy 😉.
And with the lessons (Facebook Ads, Email Marketing, Copywriting, WhatsApp Marketing, etc) you will learn on how to sell using digital marketing, you can make much more than N1,000,000.
So, why do they give such a high affiliate marketing commission?
The answer is simple!
All the products on the platform are DIGITAL PRODUCTS and are created by Experts.
They only need to create these products once and we all make money with them — both the creators and the affiliates.
Examples of digital products on Expertnaire Through Affiliate Marketing in Nigeria:
Some people do ask me, "what are the products we sell on Expertnaire?" We only sell digital products on Expertnaire. The following some of the digital products we sell:
How to move to Canada, Australia and the UK

e-commerce domination course

How to Run Facebook and Instagram Ads 

How to Pass IELTS, 

How To Make Money as a Freelancer,

etc.
Guess what? You only need your Smartphone and WhatsApp to get started after you have registered.
I know the question in your mind is "How do you join or register for the wonderful affiliate marketing program?"
Here are the steps on how to register to begin Your Affiliate Marketing Journey:
The simple way to begin your affiliate marketing journey is to get the 72 Hour Income Generator Program (or 72IG Program) by Toyin Omotoso.
It's a comprehensive course and program that will teach you the digital marketing skills you need to succeed as an affiliate.
In the 72IG program, you will learn the following:
Product and Market Research
Facebook and Instagram Advertising
WhatsApp Marketing
Web Design
Email Marketing
Not Just that, you would be given the following bonuses:
A 1 year FREE affiliate Expertnaire account (Value – N10,000)
A done-for-you WhatsApp Income campaign for 3 hot selling products on Expertnaire to help you start making money as fast as possible. 

(Value – N150,000)

Twitter Money Blueprint which gives you tons of free organic traffic to your WhatsApp. 

(Value – N25,000)

and More
That is not all…
When you register today, I will add you to my mentorship group where you will learn how to make your first 1 million in 3 months.
How To Register for The 72IG Affiliate Marketing Program
Here Are a Few 72IG Testimonials for You To Watch
A lady… She Made 2 Million Naira in 3 Months.
Or this guy who made 10 Million Naira in Sales…
Still here? Pascal, a full time student, crossed over 1 Million Naira in 4 Days.
How about Preye who made N1.3 Million Within 2 Months As a Youth Corper?
This lady sent me a message on Whatsapp. She just crossed over N750K with affiliate marketing.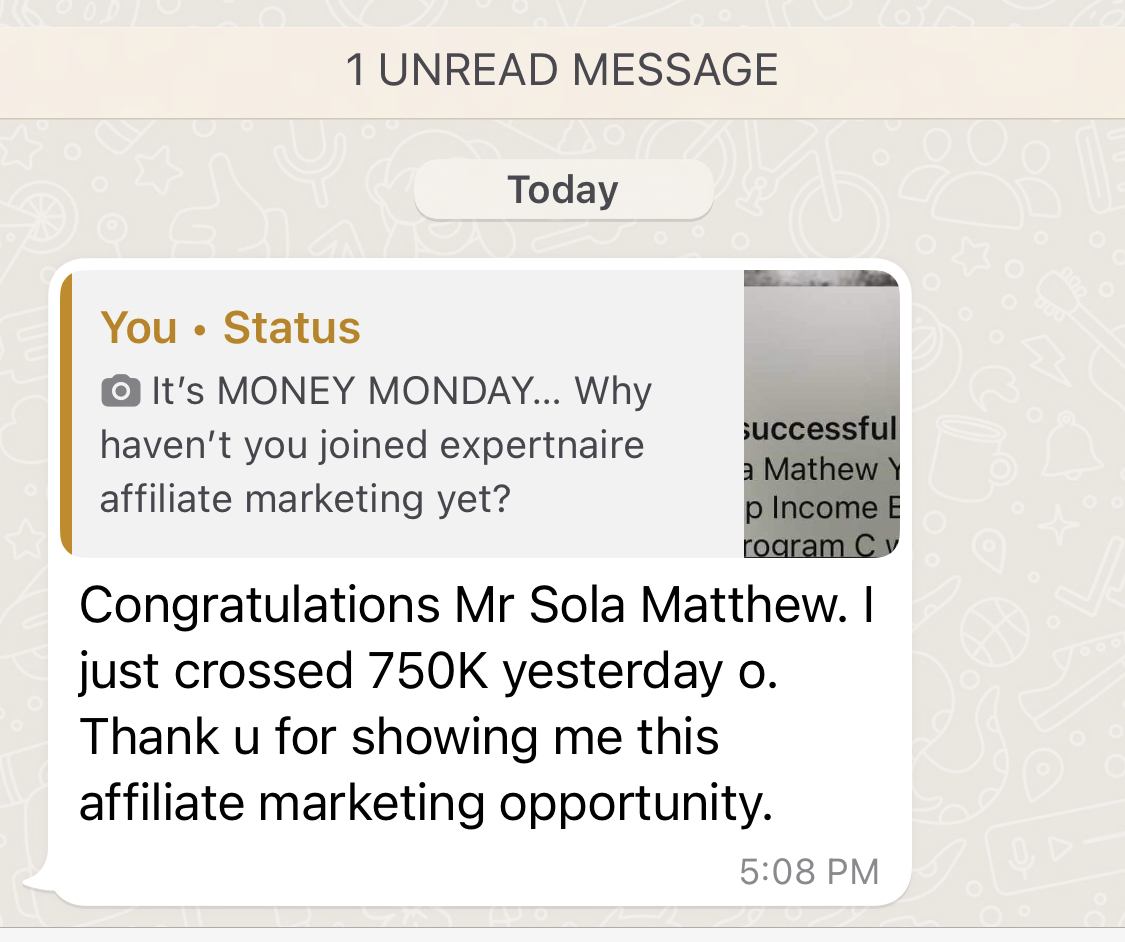 MORE 72IG PROGRAM TESTIMONIALS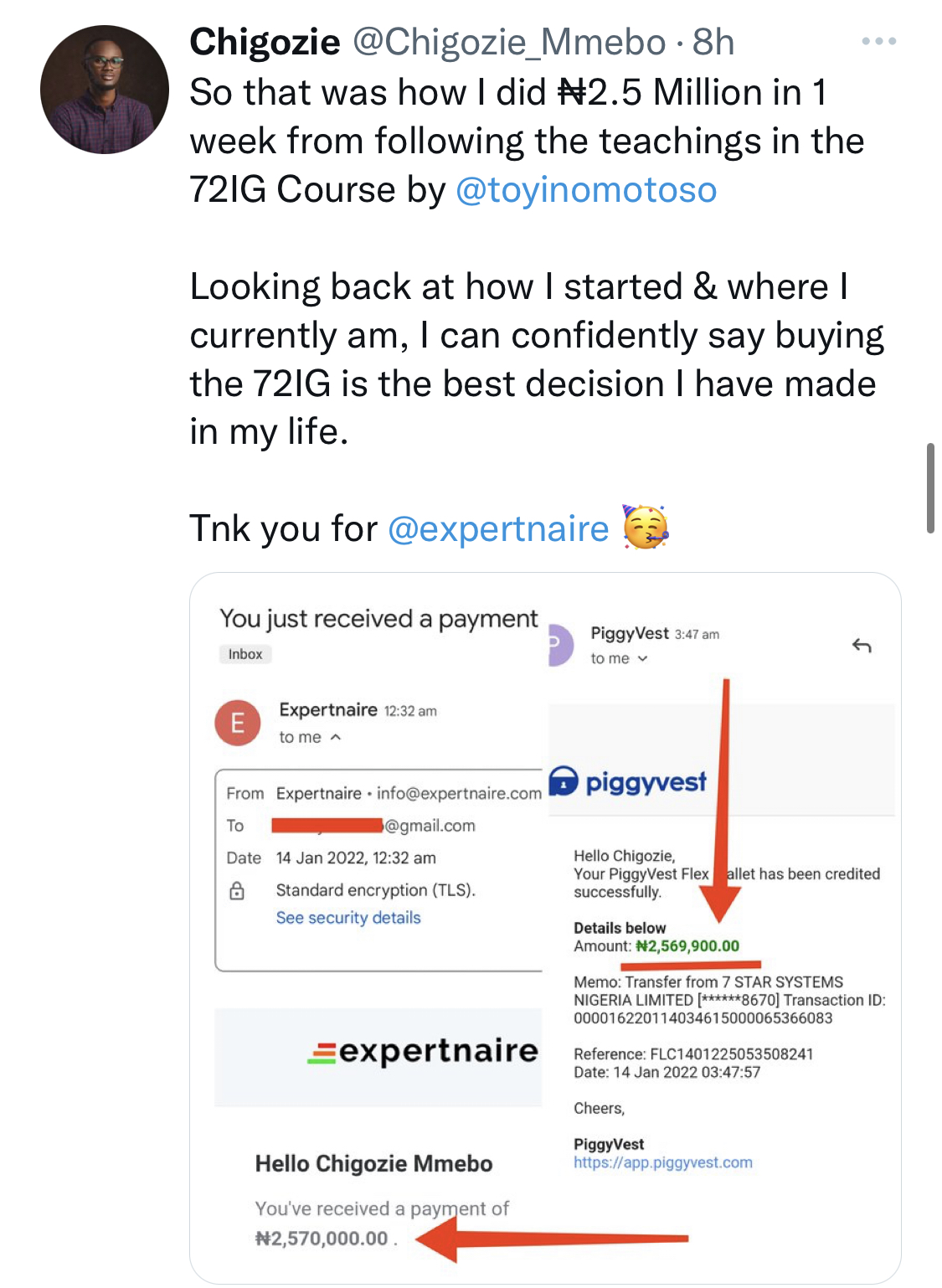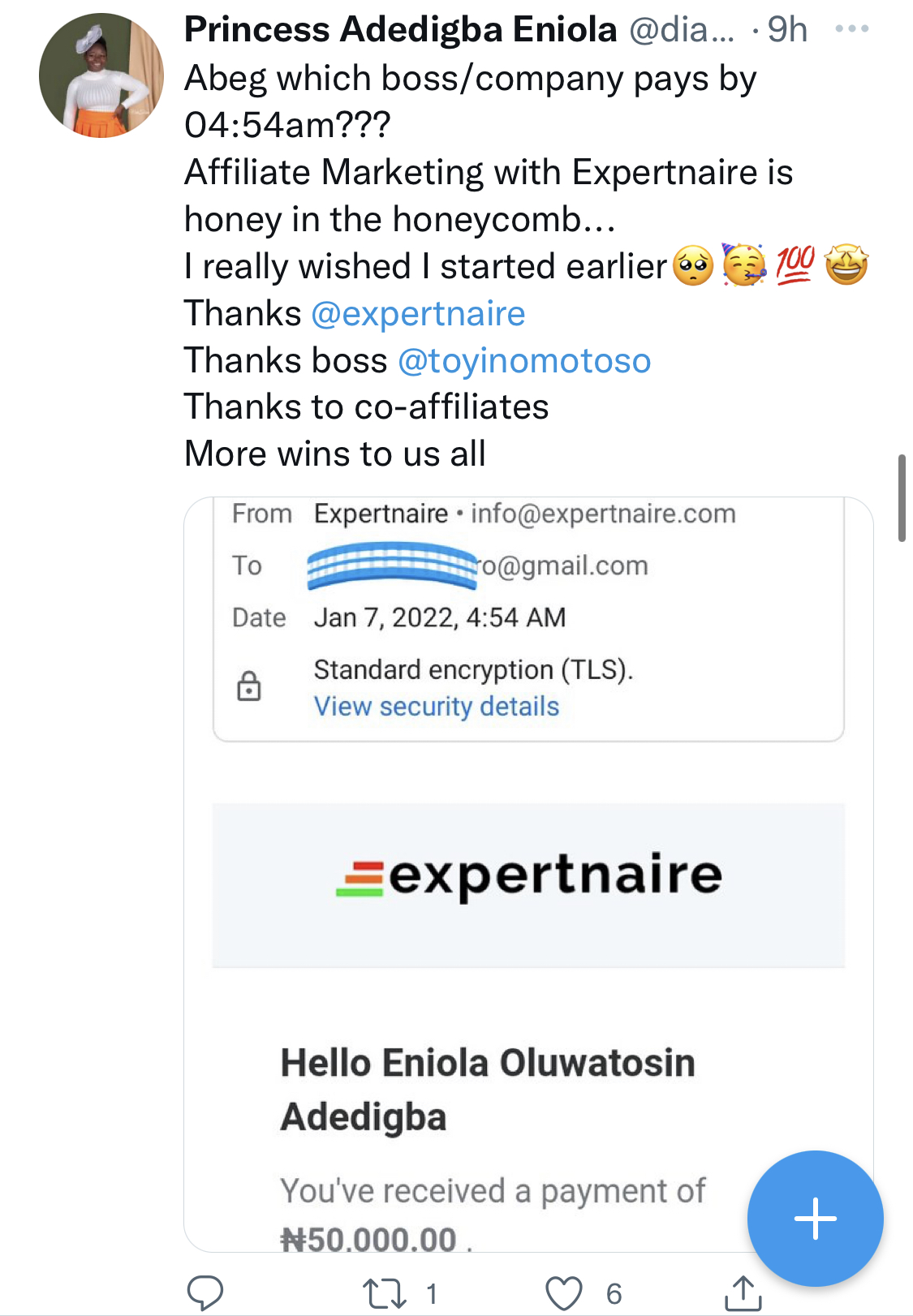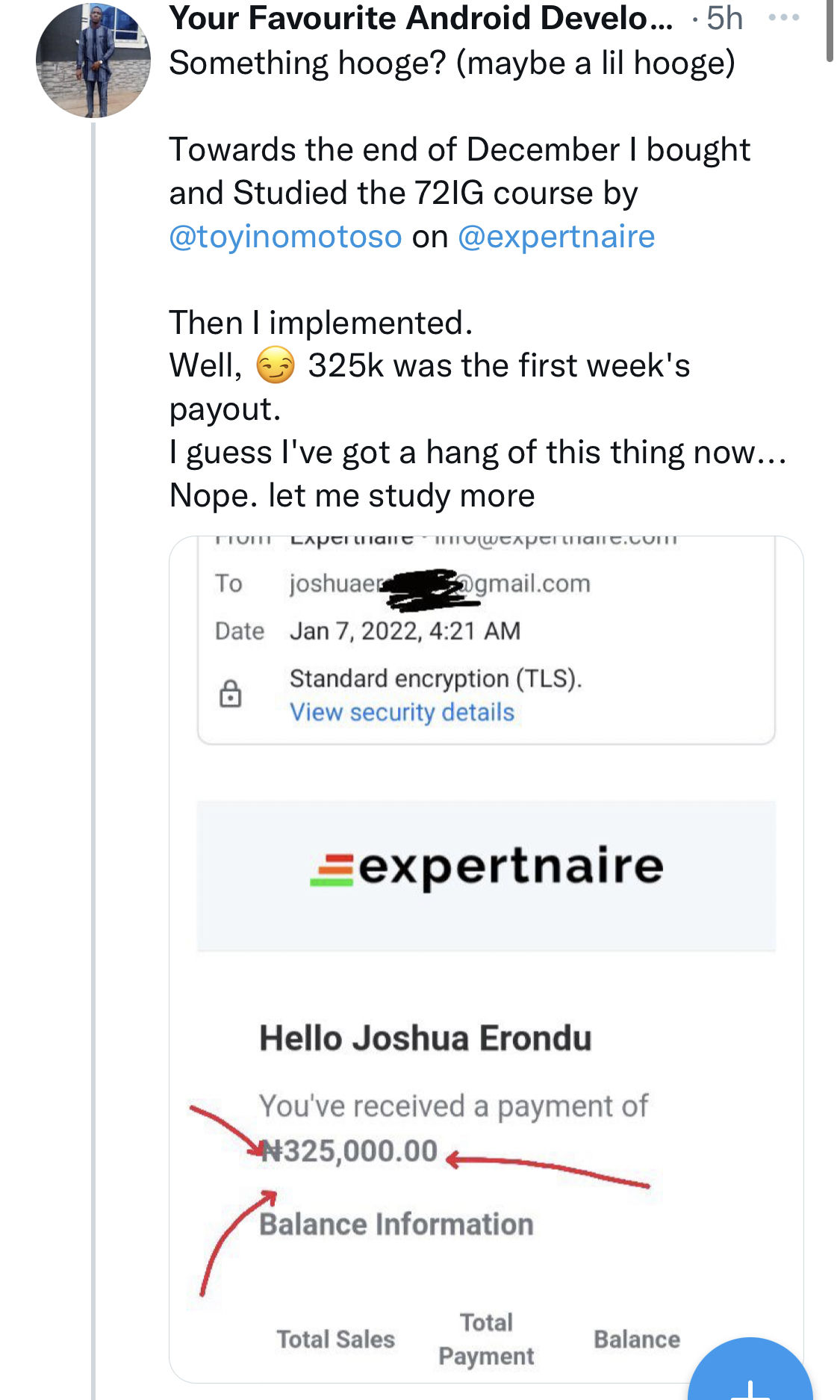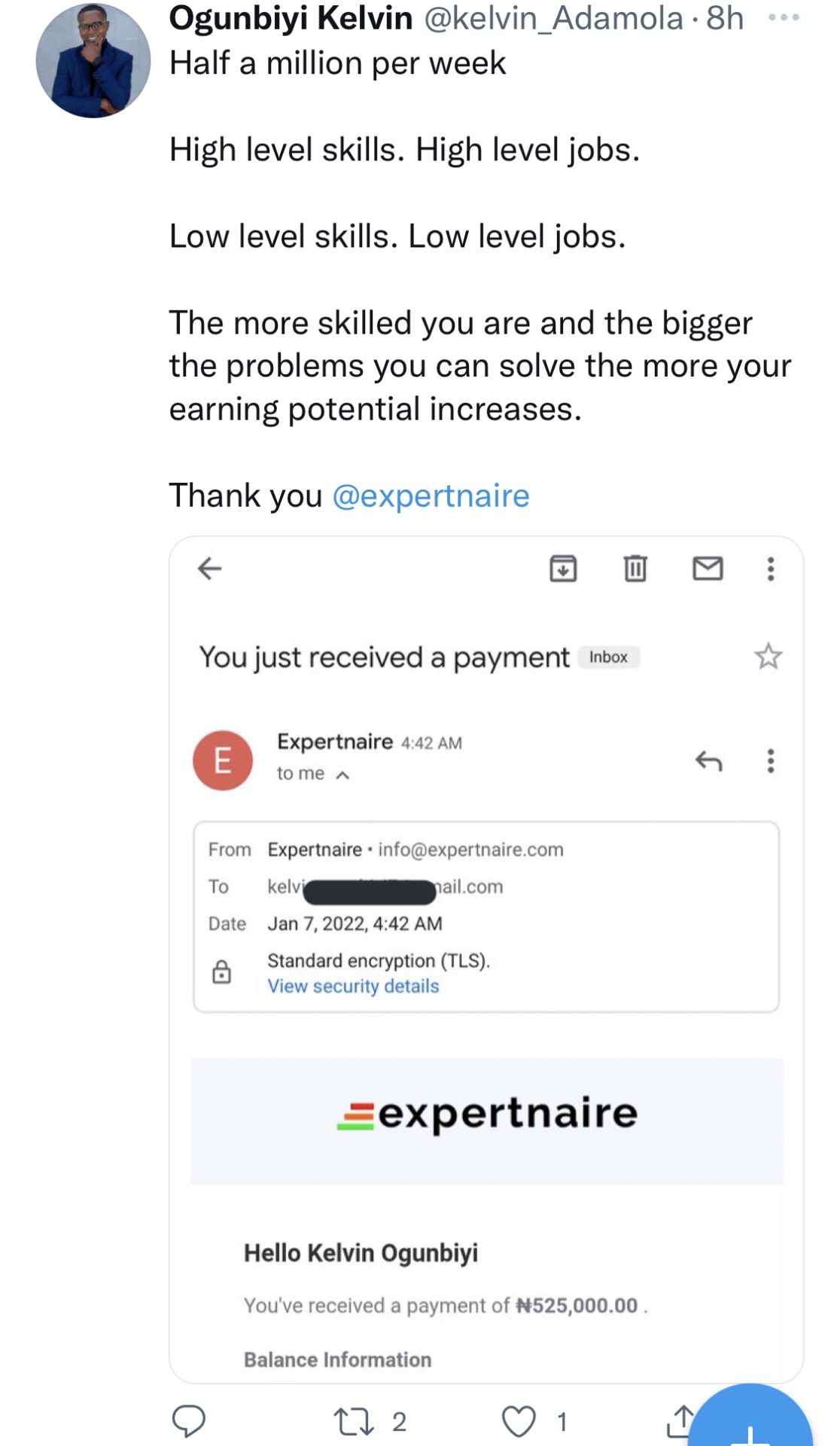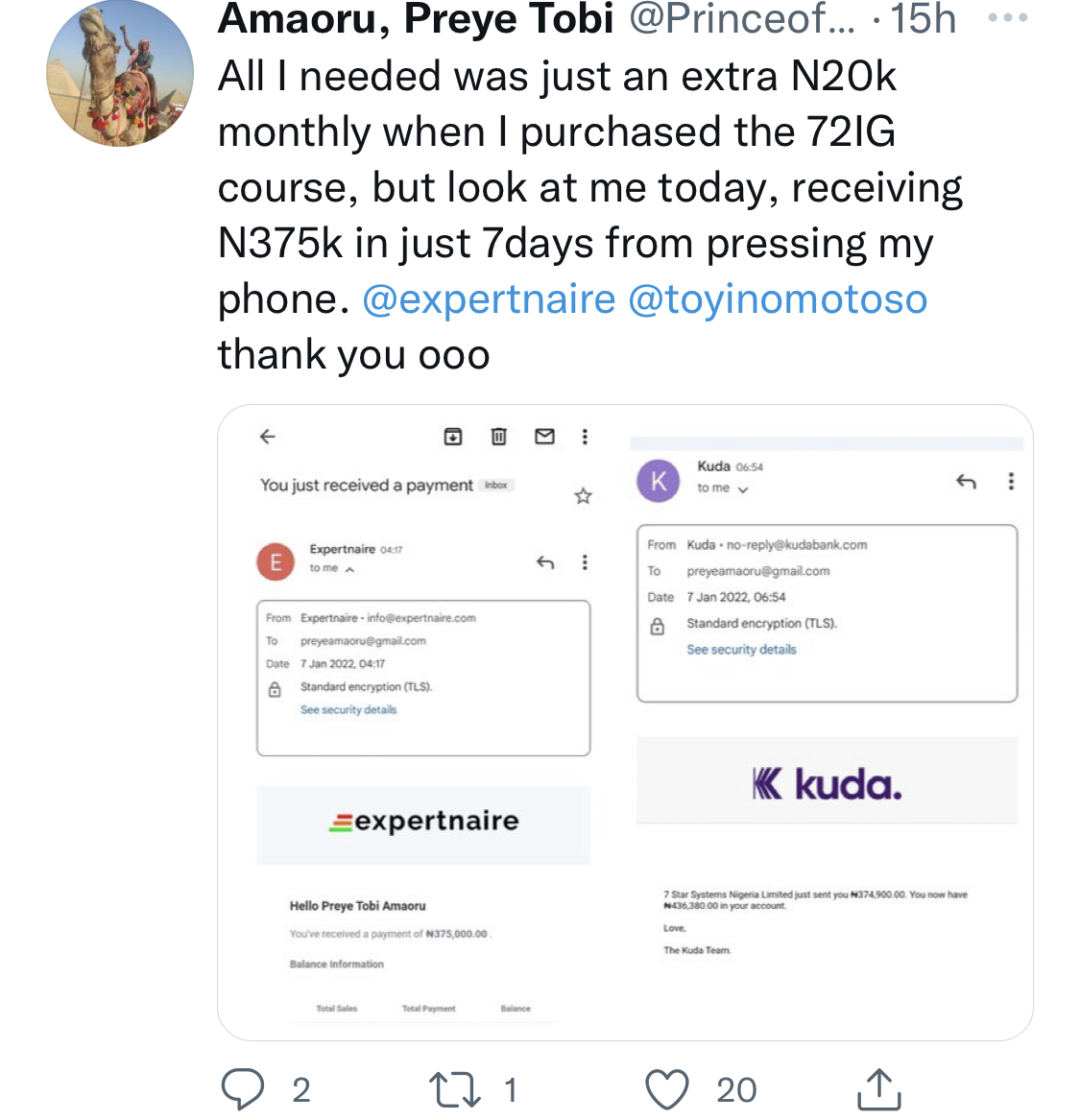 Frequently Asked Questions from Previous Affiliate Marketing Class:
Will you coach me?
Yes! I have a personal mentorship group where I coach those who registered through me (I call them my special students).
Normally, my mentorship group costs 50k for those who are not my students but you will get it for FREE if you register today.
Actually, I'm the FIRST person to start making a huge amount using WhatsApp (You can see proof at https://goglobal.ng/72ig), so be rest assured that you're in good hands. I'll coach you to become successful!
Is there Certificate for the 72IG Course?
See What Toyin Thinks About Certificate for the 72IG Course, LOL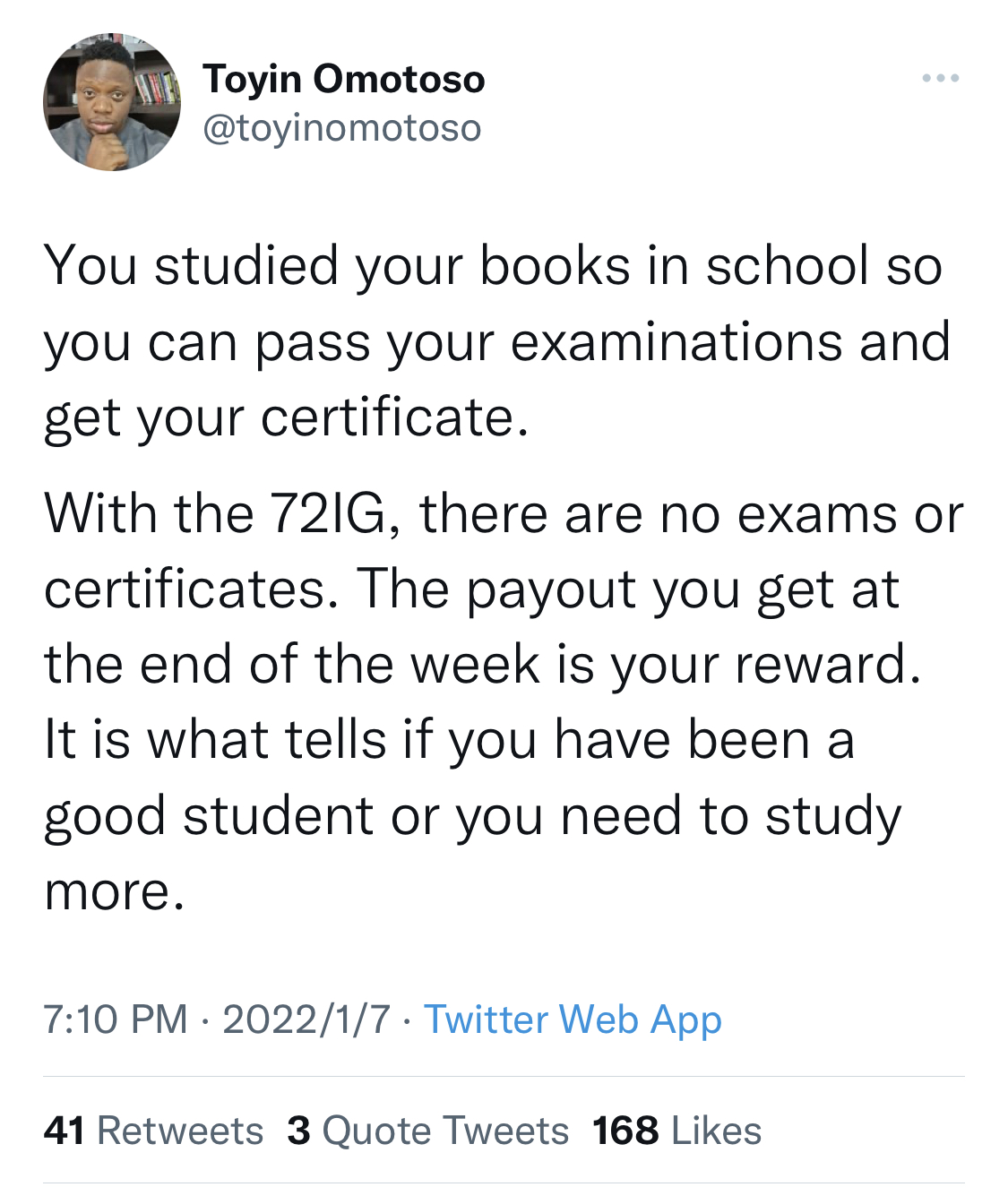 Are the products on 72IG Program Legit?
Yes! It is super legit and real. It is NOT a scam. People like me have been sharing testimonials of how the 72IG program has helped their lives. 
How Much is The 72IG Whatsapp Income Generator Affiliate Marketing Course?
The 72IG Program is currently N62,500 but the price will increase to N75,000 any moment from now. The best is is to get it now and save N15,000.
What does the registration cover?
 A lot!!! Apart from my personal mentorship group, see what you will get from the program at https://goglobal.ng/72d
What other things can I learn from the program?
You will learn the following high-paying skills from the 72IG program:
Facebook & Instagram Skills

Copywriting

Web design and Landing Page Design

Email Marketing

Video Animation

Graphic Design 

and more
I don't have audience on my WhatsApp. How will I make sales?
The program (plus my personal mentorship platform) will teach you how to get audience who will be mostly willing to buy from you.
Do You Still Have Questions on Affiliate Marketing in Nigeria?
If you still have questions on affiliate marketing in Nigeria, please drop them in the comments section and I will do well to answer you ASAP.
If you're ready to register now, click this link (https://solamathew.com/ChatCoachSM) to send me a message on WhatsApp.
JOIN US