Today, I was invited by the leading MTN and Branding Consultant In Ekiti, Yomi Joshua, to speak on "Using Digital Marketing to Build a Winning Brand".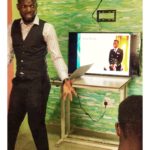 The event was organized as a way of giving back to the society. Today is his birthday. Happy birthday, Sir.
I spoke on 3 key Areas of using digital marketing to build a winning brand.
I first shared that you must KNOW YOUR BRAND.
If you don't know your brand, you cannot effectively communicate your brand.
You can take SWOT analysis to determine your brand's strengths, weaknesses, opportunities and threats.
I'd recommend you read "Blue Ocean Strategy" to learn more on that.
I went further to talk on HAVING (and nurturing) a VALUABLE BRAND.
Since Yomi Joshua had already dealt extensively on BRANDING, I concentrated on offering valuable product and services.
I used my book, #IHaveBeenThereBefore as an example of a great product.
Finally, I talked on BUILDING LIST.
This is a powerful way to acquire, nurture and retain your customers using digital technology.
I cited examples of tools and channels you can use to build list such as email, Facebook Groups, WhatsApp Groups, ChatBot and Mobile Apps.
Of course, I talked about my community that John Obidi, a foremost Social media strategist, inspired me to start. The group has now grown to over 3000 members and still counting.
John Obidi has really influenced me positively and has inspired me to live intentionally.
Thank you, sir.
At the end of my session, I attended to questions from the participants.
It was really a WOW moment.
Thank you, Yomi Joshua, for the privilege to speak. I don't take that for granted.
God bless you, sir.
Do you have any question about building your brand / business using digital technology? Ask below.
— Sola Mathew
GoGlobal